Jurassic World: Dominion Dominates Fandom Wikis - The Loop
Play Sound
"

Better you battle the Keeper himself, than me.

"

―Shota
Shota was a powerful witch woman, living in the Agaden Reach. She had an extremely beautiful palace situated there and the surrounding forest was infested with vicious creatures and almost living vines, possibly created by Shota. Her name was known throughout the Midlands, and feared, as it was said that even wizards feared the wrath of Shota.
Biography
[
]
Early life
[
]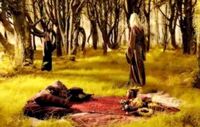 Not much was known about the early life of Shota. She remarked at one point that her mother lived through an age where male Confessors were allowed to live and caused chaos. Shota showed fear about possibly reliving such an age.
At one point, the former Seeker of Truth, Samuel, came to the Agaden Reach to live with Shota. As all Seekers did, except those able to turn the blade of the Sword of Truth White, Samuel had fallen victim to the curse that destroyed his body and mind. Though he begged Shota to lift the spell, even she proved unable to do so, and as such simply bewitched Samuel into becoming her faithful companion. First Wizard Zeddicus Zu'l Zorander later came to the Reach to retrieve the Sword of Truth from Samuel.
Fighting Rahl
[
]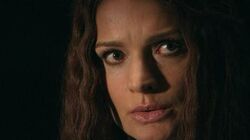 When Richard Cypher and Kahlan Amnell needed answers on how to defeat Darken Rahl, they decided to head into Agaden Reach and speak with Shota. Richard, who was new to the world of magic and the New World in general, did not know the dangers that going into the Reach, but Kahlan did. On their way into the Reach, Kahlan was kidnapped and taken to Shota herself.
When Richard made it to Shota, he instead found his mother. He realized that it was a trick, that it was actually Shota. Shota reverted. Testing Richard, Shota had the image of Zedd appear and throw Wizard's Fire at Shota. Throwing himself in front of the fire, using the Sword of Truth as protection, Richard "saved" Shota and passed her test. She revealed Kahlan, who was currently tied up and covered in snakes.
After helping Richard and letting Kahlan go, Shota told Richard never to return to the Reach, else she would kill him.
Tear in the Veil
[
]
Shota comes to the Mud People village, searching for Richard to tell him that the veil between the world of living and the Underworld has been torn. She sends Samuel to find Richard and tell him that if he doesn't come to see her, she will kill everyone in the tribe. Richard and Kahlan find Shota in the spirit house. She is furious to discover they are about to marry, saying she has foreseen that their offspring will be male and have both Richard's and Kahlan's powers, and vows to kill their child if they give birth to him, so that the "dark times" of male Confessors' reign will never repeat. She reveals to Richard that he is a bastard son of Darken Rahl, much to Richard's dismay, also  Zeddicus Zu'l Zorander's grandson, and that by letting Darken Rahl open a box of Orden he tore the veil, and the Keeper of Underworld is about to swallow the world of life. She also says that for reasons unknown to her, Richard is the only one who can repair the tear. Shota then mentions that a wizard with screelings at his aid has come and invaded her domain, and now that she's informed Richard about the threat of Underworld, she will return and reclaim her home by killing the wizard and ripping off his skin to absorb his magical powers. When Richard asks her to help him in this new quest, Shota says she can tell him nothing that may help him, but she tells him that he will fall into a trap of time and risk the loss of everyone he loves, and that he cannot fix the tear in the veil if he doesn't get out of the trap (which later comes true when Richard finds out about the aging spell around the Palace of Prophets and a magical barrier that doesn't let out anyone who wears a Rada'Han). Shota says that should Richard save the world from the Keeper, she will always be in his debt, and leaves.
Imperial Order War
[
]
The Plague
[
]
When Nadine Brighton started out searching for Richard after he came up missing from Westland, she found herself in Agaden Reach and before Shota. Shota, once again using her visions, sent Nadine to Aydindril, where Richard was currently staying. Shota told Nadine that she was to marry Richard, which made Nadine a very happy woman. Due to his devotion to Kahlan, this also made Richard very angry. It would not be until later that Shota was actually only trying to be nice in picking someone who he once may have cared about. Shota was not the one who decided that Richard would need to wed someone other than Kahlan in order to get in to the Temple of the Winds: when Kahlan travels to her domain through the Sliph, Shota reveals she had a vision of her and Richard marrying different people to find a way to stop the plague, and that both good and evil spirits are somehow involved. She also receives another vision: they will get a message from the moon which they must take as seriously as possible. Shota's visions come true when a group of Andolians arrive at Aydindril with a message from the Temple of the Winds, which says that in order to gain access to the Temple and stop the plague, Richard must marry Nadine, and Kahlan must marry Drefan Rahl, Richard's half-brother.
When the plague is stopped, both Nadine and Drefan are deceased and Richard and Kahlan are going to wed in the Mud People village, Shota appears to give Kahlan a necklace which will prevent her and Richard from conceiving a child.
The Chainfire Effect
[
]
Richard Rahl returns to Agaden Reach during the events of the book Chainfire. Richard's motivations for seeking out Shota once more is in the hope that she will be able to assist him in finding Kahlan. When Richard arrives at Shota's palace, she appears in the guise of Nicci. Shota then proceeds to explain to Richard of what she knows about the Blood Beast. Nearing the end of the encounter with Shota, Richard strikes a bargain with her: in exchange for the Sword of Truth, Shota would give Richard what information she had that could be useful in "finding the truth". Richard accepts, and Shota responds with one word: Chainfire. After Shota turns, walking back to her palace, a thought strikes her to give Richard slightly more information. Shota tells Richard that; "what you seek is long buried", and "you must find the place of bones in the Deep Nothing" as well to "beware the viper with four heads". However, this was all Shota knew, and therefore she could not tell Richard anything more.
In Phantom, Shota rescues Jebra Bevinvier from Galea when the Imperial Order invaded it once again and brings her to the Wizard's Keep so she could tell Richard about all horrible events that occurred during Order's invasion to make Richard abandon his search for Kahlan and save the world from the Order's reign. Shota also lets out Richard's greatest fears by forcing him into a painful dream of himself being slain by an Imperial soldier before Kahlan, whom the soldier promises to father a child with her. Shota says that the flow of time shows the New World's fall because Richard is on the wrong path, and Richard reluctantly agrees that his beloved's life is just one life against of all the people's he leads. Shota also reveals that another witch woman named Six has claimed her domain and bewitched Samuel, who stabbed Sister Tovi and stole a box of Orden on Six's orders, and also injured Chase and kidnapped Rachel. Then she takes on the form of Richard's mother and asks him if he knows a wizard named Barracus. Richard says that he was a war wizard in the times of Great Wizard War, and investigated the case of the Temple of the Winds. Shota says that wizard Lothaine went to the Temple and unleashed the dream walker's magic to find a master millennia later - none other than Jagang, and Barracus tried to fix it, but failed. Instead, he ensured that a war wizard would be born to fight the dream walker, and that is why Richard was born with two sides of the gift and is the only one who can stop the Imperial Order. Shota also says that before killing himself, Barracus left a book named Secrets of a War Wizard's Power to help Richard in using his gift, and finally receives a vision, according to which Richard's mother wasn't the only one to die in the fire which claimed her life.
During the events of Confessor, Shota visits Rachel and Chase, taking forms of their mothers, and helps them throughout their journeys (she gave Rachel a piece of chalk to undo the spell which summoned the ghostie gobblies and the spell which took Richard's gift, and told Chase to come to the Mud People village after Richard). Then she comes to Tamarang in the shape of Six's mother and kills her, saving Richard, Kahlan, Zedd, Rikka and Tom's lives. Shota has also tamed a dragon named Gregory, Scarlet's son, so he agrees to bring Richard and the others to the People's Palace and face Jagang.
At the end of the book, when the Imperial Order is defeated, Chainfire is undone and Cara and Benjamin Meiffert wed, Cara tells Richard that Shota appeared to her and told her that should Richard appear in Agaden Reach, she'll kill him (although she was smiling when she was saying this).
Personality and traits
[
]
"

Shota thinks only of Shota.

"
"
Sometimes I fear she wants Richard for herself.
"
―Kahlan, on Shota
Though she could appear in different forms using illusion, Shota's true self was very beautiful. She had thick auburn hair and full lush lips. Her eyes were the shape of almonds, brown in color and they flickered with a keen intelligence. She had a desirable figure that was often displayed in a wispy gray dress. Shota had seemingly flawless skin and the attractiveness she displayed heighten the power of her bewitchments, that she like all witches, was often unaware that she was casting. Shota always had long lacquered fingernails.
Among people which she meant no harm, Shota usually appeared in the guise of their mother; according to her, this was an act of kindness, for them to relive a memory that was beautiful and comes without a price. This can be seen from the numerous times she had appeared to Richard in the guise of his mother, as well as her appearing to Chase and Rachel in the same way, although in the latter cases it may have been to more easily gain their trust.
She also appeared to Six as her mother, for reasons far less benign.
Shota's name was known throughout the Midlands and was feared. Shota's reputation was so infamous that even wizards feared to enter her domain.
When it came to her visions Shota often demanded that Richard heed them and sometimes presumed their meaning. However every one of Shota's foretellings have come to be, though often in a much less direct form than she had believed they would.
Powers and Abilities
[
]
Shota, being a witch-woman has a very rare form of the gift. In addition to some general powers, she is able to change her appearance, and indeed often chose to appear to people as their mothers. Shota also would bewitch people simply by being near them, and if she chose could focus this ability to make it stronger. Witch-women also have an intrinsic ability to see the ebb and flow of time, which could be viewed as a simple form of prophecy. Most often however, these foretold events would not unfold the way one would expect. Zedd often said that a witch-woman never told you something you wanted to hear without telling you something you didn't. This ability to see the ebb and flow of time made fighting witch women incredibly difficult because they would be aware of your attacks before you were. Thus, witch-women would simply deny you an anchoring point for your spell which would most often reflect it back in on you.
Behind the Scenes
[
]
Shota was introduced to Legend of the Seeker in the episode Identity. She was portrayed by actress Danielle Cormack. She later reprised the role for the episodes Cursed and Reckoning.
In Legend of the Seeker Shota has been referred to as both a sorceress and a witch woman, despite the fact that a witch and a sorceress are vastly different. Also in the series she and Zedd seem to have had a past relationship, with Shota claiming he was the love of her life, with Zedd saying they couldn't be together because their children would be too powerful.
Appearances
[
]
Books
[
]