Welcome to the...
FEATURED ARTICLE:

Nicci

---

"

And it is no longer 'Sister' Nicci—either of the Light or the Dark. Nor is it Death's Mistress, or the Slave Queen. It is just Nicci now, if you please...and even if you don't.

"

―Nicci to Prelate Annalina Aldurren

Nicci was a former Sister of the Light and Dark. Beforehand, she was also an important supporter of the Imperial Order, who earned herself the titles "Death's Mistress" and the "Slave Queen" while in their service. Originally among Richard's instructors at the Palace of the Prophets, Nicci fled along with his other teachers after being revealed as Sisters of the Dark. After being captured by Emperor Jagang, Nicci became his most feared lieutenant; eventually capturing Richard Rahl in an attempt to convince him that the Order stood for the greater good.

---

IMPROVEMENT DRIVE:

Death's Mistress is Terry Goodkind's 19th novel, and the first in The Nicci Chronicles. The book starts off where the previous novel, Warheart, left off. Death's Mistress was released in hardcover on January 24, 2017 and contains 512 pages (hardcover).

---

AFFILIATES
DID YOU KNOW?
---
QUOTE OF THE WEEK:
"Freedom requires effort if it is to be won and vigilance if it is to be maintained."
—Richard
---
QUICK LINKS:
WIKI PROJECTS: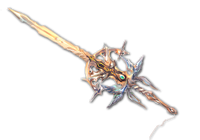 Fantasy Literature
Go to these sites for info or for help with your own wiki!
A Court of Thorns and Roses • A Song of Ice and Fire • All Souls Trilogy • Beyonders • The Black Company • The Brotherband Chronicles - Ranger's Apprentice - Royal Ranger • The Dark Tower • Deltora Quest • Discworld • The Dragonriders of Pern • The Dresden Files • Fablehaven • The First Law • Grishaverse • His Dark Materials • Inheritance Cycle • The Kingkiller Chronicle • The Land of Stories • The Magicians • Malazan Book of the Fallen • Mistborn • Shades of Magic • Shannara • The Spiderwick Chronicles • The Stormlight Archive • Sword of Truth • Throne of Glass • Wheel of Time • The Wicked Years
Want your community included? See how!