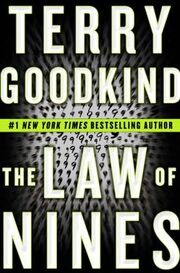 The Law of Nines by Terry Goodkind is book one of a new series of novels with G.P. Putnam's Sons/Penguin Books. It was released on August 18, 2009. The story starts nearly a millennium after the events of Confessor and is set in the world without magic.
Summary
[
]
Turning twenty-seven may be terrifying for some, but for Alex, a struggling artist living in the Midwest, it is cataclysmic. Inheriting a huge expanse of land should make him a rich and happy man; but something about this birthday, his name, and the beautiful woman whose life he just saved, has suddenly made him - and everyone he loves - into a target for extreme and uncompromising violence.
Synopsis
[
]
(coming soon)
Resources
[
]
(coming soon)
Chapter Guide
[
]
Characters
[
]
Extras
[
]
Dedication
[
]
To Jeri, the love of my life, who is always there for me. She gives me strength when I'm weak and her special smile when I'm strong. No one knows as well as she everything that has brought me to this place, this book, this new road. I could never be who I am, or accomplish all that I do, without her at my side every step of the way. She completes me. This one is for her.
Awards
[
]
(coming soon)
Facts & trivia
[
]
Alex is a direct descendant of Jennsen Rahl and Tom Rahl.
Jax is a direct descendant of Kahlan Amnell and Richard Rahl.
The

Daggett Trust

and

Daggett Society

are named after Jennsen Rahl, who used the name Daggett while in hiding.
Jax's comment that queens used to bow before her kind, as well as her unusual black dress and various comments about how she dresses, indicate that she is a Confessor and possibly the Mother Confessor.
The statue of the woman in white in the

magic shop

was possibly modelled on Kahlan Amnell.
The town of Orden, Nebraska was most likely named after the Boxes of Orden.

Castle Mountain

, located in Maine, is a natural rock formation which resembles the People's Palace.
External links
[
]