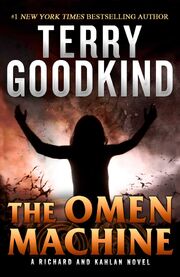 The Omen Machine is Terry Goodkind's 14th novel, and the first in a new series about Richard and Kahlan. The book starts off where the previous novel, Confessor, left off. It is followed by The Third Kingdom. The Omen Machine was released in hardcover on August 16, 2011 and contains 525 pages (hardcover).
Synopsis
Edit
"An accident leads to the discovery of a mysterious machine that has rested hidden deep underground for countless millennia. The machine awakens to begin issuing a series of increasingly alarming, if minor, omens. The omens turn out to be astonishingly accurate, and ever more ominous. As Zedd tries to figure out how to destroy the sinister device, the machine issues a cataclysmic omen involving Richard and Kahlan, foretelling an impending event beyond anyone's ability to stop. As catastrophe approaches, the machine then reveals that it is within its power to withdraw the omen ...In exchange for an impossible demand."
Resources
Edit
Wizard's Rule
Edit
Main Article: Wizard's Rules
Truth cannot be destroyed.
Chapter guide
Edit
The Omen Machine has a total of 86 chapters.
Characters
Edit
Here is a list of Character who appear in The Omen Machine:
Creatures
Edit
Dedication
Edit
Facts and trivia
Edit
Alternate artwork
Edit
External links
Edit